RS-CM1000W FM broadcasting transmitter - RS-CM FM TRANSMITTER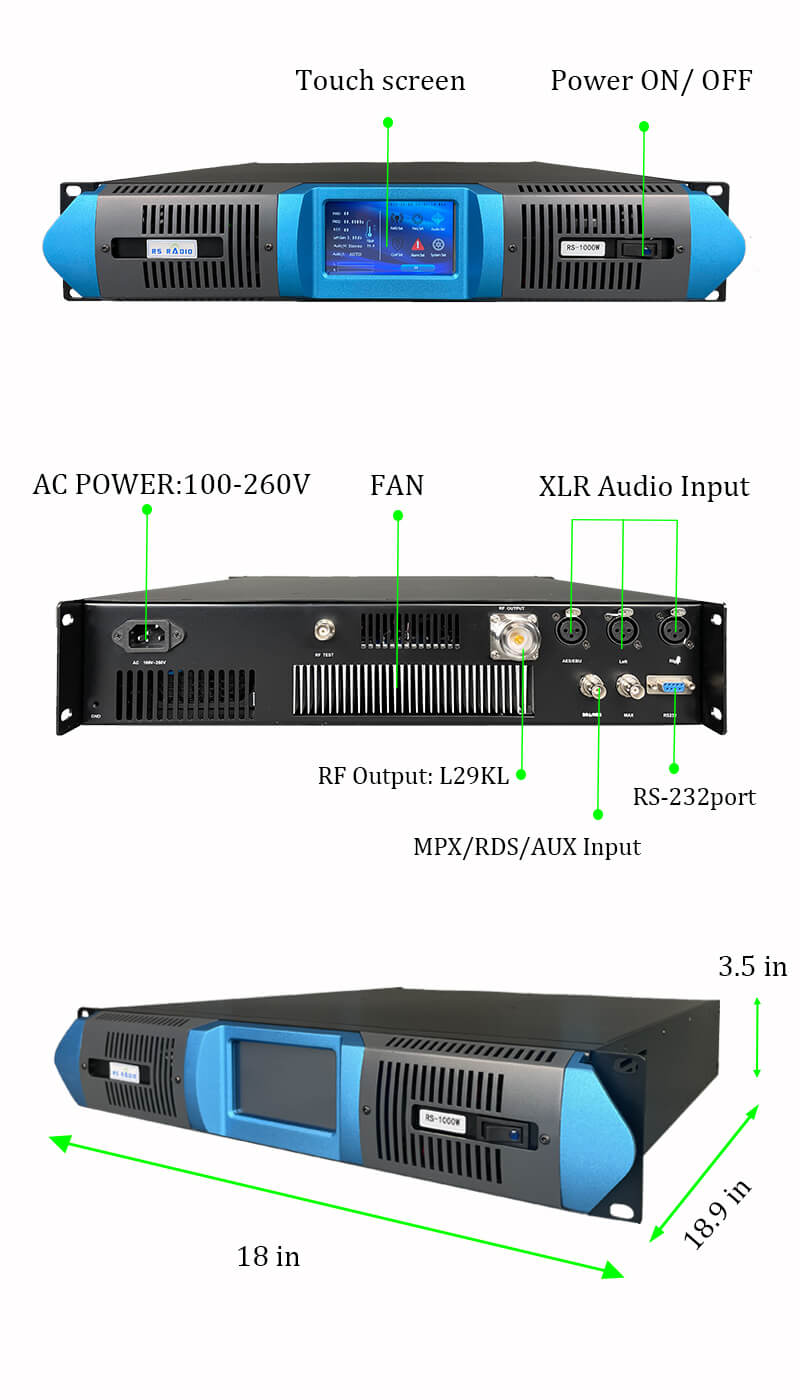 RS-CM1000W FM broadcasting transmitter
RS-CM1000W series is a profesional FM stereo/Mono broadcasting transmitter. The advanced digital technologies,Digital Signal Processor(DSP), are used in the transmitters to get little size , high performance and high reliability. They are widely used for professional radio stations to transmit high quality FM radio programs. 
More than that, the RS-CM1000W FM transmitter is now gradually showing its high-quality characteristics to the world, especially in the radio station equipment market.
FEATURES:
Touch Screen without buttons make setting more easily.

This is the RS-CM1000Wproduct,All-digital technologies DSP+PLL, better sound quality.

Upgrade frequency step to 10Khz.

You can set the automatic startup and shutdown time

Exquisite craftsmanship,Standard 19 inches, 2U whole aluminium alloy cabinet. Wiredrawing and oxidation makes surface bright, clean and elegant.

Big LCD display all the parameters in real time. displays working frequency, volume, FETMOS temperature, forward power and SWR.

Provided with the series of protection function, own active protection and raise alarm prompts once meet any trouble while working.

Accurate operating index and perfect protection measures make you are more aware of the operating status of your machine.

Easily installation and simply operations.

High quality and excellent technical performances. AGC circuit to keep the Output Power stability.

Each machine has been examined strictly by a series of quality inspection and function test to guarantee best operating function.
Technical specifications
1.Frequency Range:
87.50MHz~108MHz,step 10KHz
2..Output Power:
0~1000W continuously adjustable
3.Carrier Frequency precision:±200Hz
4.Output power tolerance ±1dB
5.Output impedance 50Ω
6.RF output connector 7/16"
7.Residual wave radiation < -70dB
8.Parasitic amplitude modulation noise < -50dB
9.Pilot frequency deviation ±0.1Hz
10.38KHz residual component in the S signal < -50dB
11.Audio pre-emphasis 0μs/25μs/ 50μs/75μs optional
12.Signal-to-noise ratio
≥92dB

 (1kHz, 100% modulation)
13.Stereo separation 
≥73dB

(L → R, R → L)
14.Distortion 
≤0.01% 

(30Hz ~ 15000Hz, 100% modulation)
15.Frequency response 
±0.01dB

 (no emphasis, no de-emphasis)
16.Left and right channel level difference 
≤0.01dB

 (100% modulation)
17.Power supply voltage 
100VAC~265VAC/ 47Hz~63Hz
18.Operating environment temperature -10 ° C ~ +45 ° C
19.Size:2U (width 18in × height 3.5in × depth 18.9in)
20.Weight:
13Kg

 (including packaging)