50W FM Transmitter RS RADIO - FM Transmitter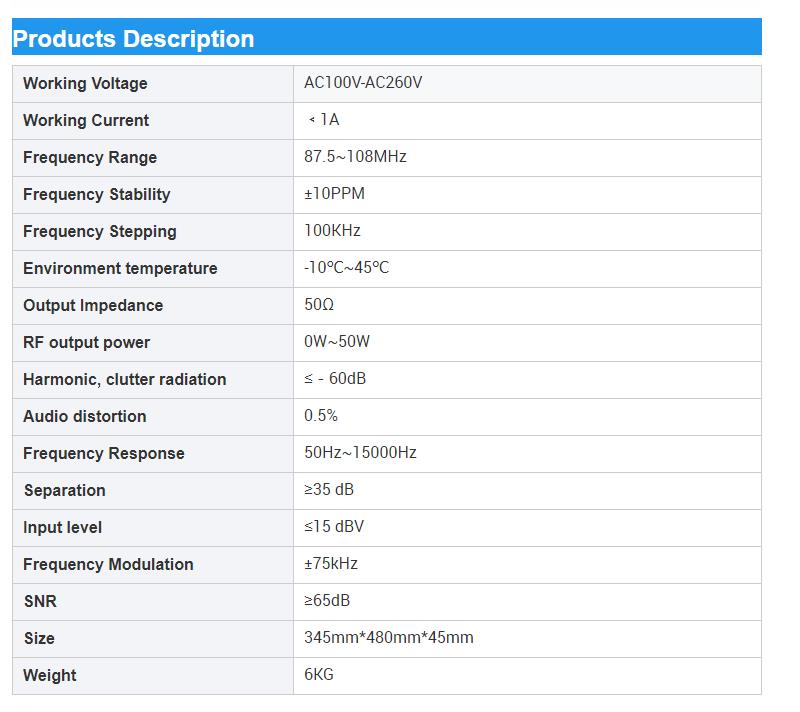 50W FM Transmitter RS RADIO
This FM stereo transmitter, using advance modulation system and Phase Lock Loop to control a steady frequency when transmitting.
New invented low noise system is used to reduce the noise level during broadcasting time. A digital stereo system is used andcontrol the stereo separation at great condition.with a high gain antenna ,it can easy broadcast anywhere you want,home,apartment,church, school,club,camping,backyard,resident village.This Broadcast Package is plug and Play design, very easy to use , as you could see it at instant.so you really could enjoy the stereo transmitter!
NOTE:
Connect antenna first ,then connect the power supply, otherwise, transmitter will be burned out.
>Select an unused FM station in your area ,adjust any FM Radio to the signal that your are broadcasting on.
-- How far(long) the transmitter cover?
>This is 50W transmitter. The ideal covering range is about 10KM outside in the open area.
The transmission range depends on many factors. The true distance is based on the antenna installing height , antenna gain, using environment like building and other obstructions , sensitivity of the receiver, antenna of the receiver . Installing antenna more high and using in the countryside , the distance will much more far.
EXAMPLE 5W FM Transmitter use in the city and hometown:
>I have a USA customer use 5W fm transmitter with GP antenna in his hometown ,and he test it with a car, it cover 10km(6.21mile).
>I test the 5W fm transmitter with GP antenna in my hometown ,it cover about 2km(1.24mile).
>I test the 5W fm transmitter with GP antenna in Guangzhou city ,it cover about only 300meter(984ft).
Below are the approximate range of different power FM Transmitters. ( The range is radius )
0.1W ~ 5W FM Transmitter :100M ~1KM
5W ~15W FM Transmitter : 1KM ~ 3KM
15W ~ 80W FM Transmitter : 3KM ~15KM
80W ~500W FM Transmitter : 10KM ~30KM
500W ~1000W FM Transmitter : 30KM ~ 50KM