1000W fm transmitter kit for Radio Station - FM Transmitter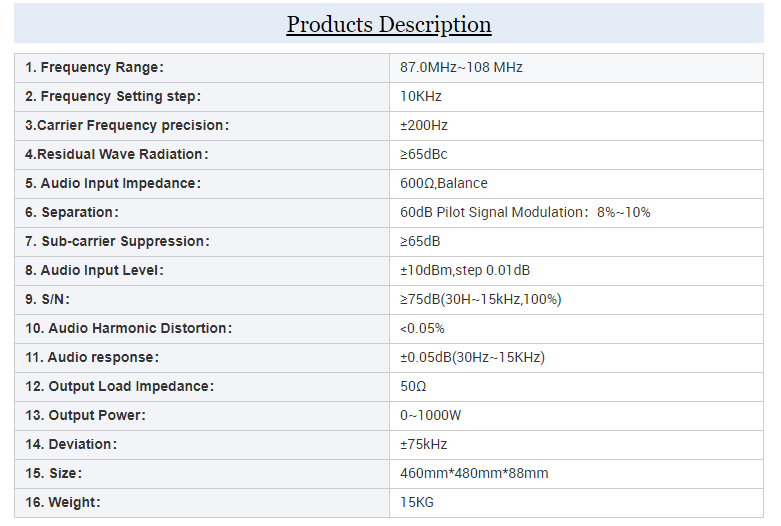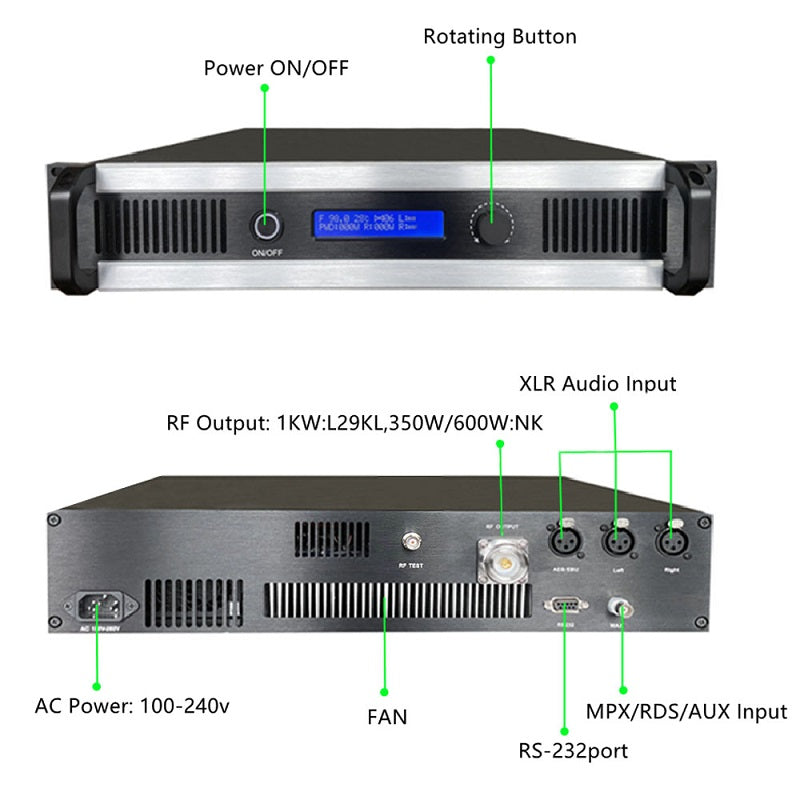 1000W  fm transmitter kit for Radio Station
OVERVIEW
The DSP (Digital Sound Processing) technology makes the RS- FM1000W FM transmitter an enjoyable sound broadcasting device for all music lovers, you'll no longer be bothered by the noises or distortions.
As quality assurance, RS RADIO Provides
5
YEAR warranty for this professional broadcast transmitter, you'll have no worries to use it for the radio station.
Frequently Applicable Uses:
1). Community Radio stations

2). LPFM radio stations

3). City radio stations

4). Christian Church radio stations
FEATURES:
1.Primary Application:
high quality at a very attractive price.Ideal for use as transmitters in stand-alone applications.
Adjustable power output from 10 to 100%.
2.Reliability/Continuity:
APC (Automatic Power Control) and Foldback protection ensure
reliable operation under any operating conditions.
3. Audio Performance:
low distortion and intermodulation values and a high noise/signal ratio.
4.Operating Efficiency:
incorporate a PFC (Power Factor Corrector) power supply, that provides the utmost efficiency for enhanced energy saving and environmental protection, which added to LD-MOSFET technology ensure high efficiency, better than 70% across the bandwidth.
5. Ease of Maintenance:
advanced module engineering ensures extreme of access and simple
maintenance. Includes an high performance air filter. The power supply is plug-in type, easily removable.
6.Interface Control:
total control thanks to microprocessor easily programmed from menu with all key parameters displayed on LCD.
7.Input/Output Interface:
built-in high-performance stereo coder, L&R analogue audio inputs, Mono inputs, MPX composite signal and auxiliary inputs for SCA / RDS signals. TOSLINK, AES/ EBU digital audio inputs are available as an option.
8. Remote Control:
built-in telemetry system via GSM modem or via WEB/SNMP (option).
9. Regulatory Compliance:
state-of-the-art technology in full compliance with EC, FCC and CCIR standards.
Outstanding Features:
1) OVERHEAT PROTECTION:
The transmitter will switch to auto-protection with alarm message and a beep sound once the working
temperature gets higher than normal range.

2) OVER SWR PROTECTION:
SWR is the indication of antenna system connection with transmitter. Once the connection is bad and causing a high SWR Value, the
transmitter will switch to automatic protection mode by showing alarm message on the screen with a beeping sound meanwhile.

3) FAN ERROR ALARM
When the fan stops running, the alarm message will be displayed on the screen
4) ADJUSTABLE POWER OUTPUT :
The RF out of this 1000w FM transmitter is continuously adjustable from 0-1000 watt at the stepping of 0.1watt, which means you can
tune it to 50w...100w...300w...,1000w with just one transmitter you'll get multiple modes of outputs and easy to tune as per your needs.
The transmitter implements digital FM modulator module as its core,combining with RF power amplifier.In the transmitter,DSP&DDS are used to execute all-digital processing,such as digital filtering,preemphasis, the generation of pilot frequency,stereo coding and FM modulating.A AGC circuit is used to keep the set power stable.
High performance and very good reliability has been proved by the large usage of RS RADIO-1000W transmitters.Also it is low cost and small size.
RF amplifier uses NXP LDMOS transistor BLF188XR, making it able to withstand severe load mismatch of more than 65: 1 VSWR at 5dB compression point.
Dipole Antenna:   
Electrical specification:
Frequency Range: 87.5Mhz-108Mhz

Impedance:50ohm

Connector:NK

VSWR:<1.35:1 MAX

Polarization:Vertical

Dimensions:1400*900*50mm

Weight:4kg with hardware mounting

Gain:2.0dB * Max handle power:2KW
One 30m feeder cable
1/2" 30meters feeder cable